"An empty lantern provides no light. Self-care is the fuel that allows your light to shine brightly." -Unknown
ACCC is pleased to announce that our 2020 Annual conference will be moved to a virtual format due to COVID-19. Those paying their registration fee will be provided a password to access a special page with video presentations from our scheduled speakers on November 6. This year's conference will focus on self care with opportunities to grow the spirit, embolden ministry and encourage one another. Viewing these videos will still count towards your CEUs. Videos can be watched anytime between November 6 and December 31 to count towards 2020 CEUs.
---
Conference Speakers – more being added
Kenny Tello, LCSW, CAP, CCTP
Manager of Physician Wellness & Resilience, Orlando Health
Kenny is considered an expert in the field of mental and emotional health and has obtained certifications in addictions, trauma, and evidence-based approaches such as EMDR, and TF-CBT. As a result of his experience and effectiveness in providing services to individuals, groups, couples and families, Kenny has become a sought after speaker for local and national conferences. He has presented on a myriad of topics involving the mental and emotional health of professionals and the general public. He has also been interviewed for radio, newspaper, television and social media. He has written and collaborated in creating literature and curriculums for different organizations.
As Kenny's knowledge, experience, and accomplishments grew, his role evolved from psychotherapist to consultant, to trainer, and now the manager of the Physician Wellness and Resilience Program. In 2004, Kenny was part of Orlando Health's inaugural Emerging Leader Program where he was exposed to the organization as a whole and connected with several individuals within the organization. As a result of these connections and the many gifts and skills Kenny possess, he joined the Wellness and Resilience Program to help in its development and establishment as a premier program for physicians and advanced medical professionals.
Kenny has received several awards and recognition for his relentless pursuit of finding ways to help others. His heart and spirit have been recently illustrated by his developing a system-wide protocol to support and help team members after critical incidents such as suicides, loss of patients, and man-made disasters such as bombings, significant shootings and assaults. Kenny's strong background in mental health, effectiveness in the treatment of trauma, and his certification in the internationally used Critical Incident Stress Management Model have been instrumental in the creation of this protocol. He assembled a team of like-minded professionals who provide services on the wellness continuum to include mental health, spiritual care, case management, pet therapy, integrative medicine, and nutrition.
As part of the Wellness and Resilience Program, Kenny provides services to physicians and advanced practice providers that include coaching, consultation, training and leadership development. His goal is to continue to provide hope, healing, and help to those who care for others.
---
Chaplain David L. Outing
The Founder, President & CEO (Chief Encouragement Officer) for CORPORATE CARE PARTNERS, LLC., a company that provides inspirational wellness and soul care for employees in the marketplace through workplace Chaplaincy



---
Chaplain Richard E. DeFord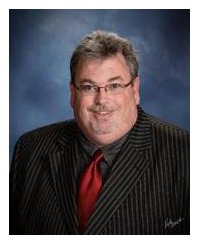 BCC/BCPC, Doctoral Student
Richard DeFord is the Administrator for the Association of Certified Chaplains and is a Board Certified Chaplain and Pastoral Counselor. He also serves as the chaplain for Fitzgibbon Hospital and Fitzgibbon Mary Montgomery Hospice in Marshall, MO. and the Associate Pastor of Missions and Outreach at Katy Park Baptist Church in Sedalia, MO.
Richard was rocked when his father unexpectedly passed away in December of 2017. The death made it a challenge to provide care in a hospice and healthcare setting while also grieving. His hospital graciously allowed him to receive certification as a Grief Recovery Specialist and he launched a Grief Recovery program, both at Fitzgibbon Hospital and his church which are in separate communities.
Richard knows firsthand the effect loss has on the work of a chaplain. He will share his journey from loss to recovery and give practical knowledge and tools for chaplains to take back to their own facilities for care of themselves, their staff and their clients/patients.